POSTPONEMENT INFORMATION
---
Dear all,

We have been closely monitoring the on-going developments and implications of the COVID-19 outbreak. As most of you are aware, we already postponed the PEAC workshop from May to October last year and in May 2021. However, the pandemic still continues to impact many parts of the world, and the uncertainty for making travel arrangements now looks like it will continue.

Maintaining this course only in virtual would lose its interest, since the practice is a major element of this workshop.

It has therefore become clear that in order to ensure that as many people as possible are able to attend, we must postpone it again BUT in 2021.

We deeply regret any inconvenience this third change in dates may cause. But as organizers we strongly believe that a postponement until the second half of 2021 from December 10 to 16, will ensure the best for the Paris Endovascular Aortic Course programme.

If you have already registered for this year, your registration will be automatically transferred to the new dates.

For any information, please contact Héloïse hmarty@divine-id.com.

We remain at your disposal for any further information.

Thank you for your understanding, and stay safe !
Stéphan Haulon, Tara Mastracchi & Timothy Resch
---
TOPICS
Live cases from the hybrid room every day
Hands-on workshops
Training in 3D workstation use
Lectures from international endovacular experts
Dedicated sessions (live cases + lectures) on EVAR, TEVAR, Iliac Branch, FEVAR and BEVAR
Percutaneous closure systems
Complex cases sessions (live cases + lectures) on Dissections and Arch aneurysms
See the program: Click here
PEAC COURSE DIRECTORS
Stéphan Haulon, Marie Lannelongue hospital, France
Tara Mastracci, London, United Kingdom
Timothy Resch, Copenhagen, Denmark
INTERNATIONAL FACULTY
Nuno Dias, Malmö, Sweden
Dominique Fabre, Marie Lannelongue hospital, France
Tilo Kölbel, Hamburg, Germany
Mark R. Tyrrell, London, United Kingdom
Jason Wilkins, London, United Kingdom
Dates
December 10-16, 2021
Venue
Marie-Lannelongue hospital
133 avenue de la Résistance92350 Le Plessis-Robinson, France
Getting around
• By RER: RER line B, Robinson terminal
(Be careful take the Robinson terminal, 1 train on 3 approximately) - Exit at the head of train, right at the end of the quay. The hospital is a 10-minute walk from the RER.
You can also take the RATP bus line N ° 395, stop at Marie Lannelongue hospital.
• RER line B, direction Massy Palaiseau or Saint-Rémy Les Chevreuses
Get off at Bourg La Reine and take the RATP bus line N ° 390 Direction Vélizy - Southern Europe, stop at Marie Lannelongue hospital.
• Metro line 13, St Denis - Chatillon, direction Chatillon Montrouge
Get off at the terminus and take the RATP bus line N ° 194, stop Edmond About. The hospital is 3 minutes walk on the Avenue de la Résistance.
By car:
• From Paris - Porte de Chatillon
Take the D906 towards Versailles. Go straight on about 8 km, cross the town of Plessis-Robinson. The Z.I. is indicated on the left of the D906, after Béclère hospital.
• From Paris-Porte de Saint-Cloud
Take direction Chartres / Orléans N118. 4 km after the Pont De Sèvres, exit N ° 4 direction Créteil (be careful not to take the direction Versailles). 500 m after, exit "Le Plessis-Robinson Center". At the roundabout follow the signs for "Marie Lannelongue hospital".
• From Versailles / Saint-Quentin en Yvelines via the A86
Exit at junction 29, at the roundabout on the 11th of November turn left on D75 Avenue Léon-Blum, continue on avenue Charles-de-Gaulle then on avenue de la Résistance.
From Créteil / Orly / Antony by A86 Est
Take the exit n ° 28 Chatenay-Malabry, turn right on avenue Jean-Baptiste Clément, continue straight on the Avenue Roger-Salengro until the RER Robinson, turn left on Avenue du Plessis, then on the left, Avenue of the Resistance.
Registrations 2021
1 - Send your CV and application letter in English to hmarty@divine-id.com before November 10, 2021.

2 - If your application is successful and - in this case only - you will receive an email notification to register online.

Do not register before! Only participants who have been selected can register

Registration will be closed after April 1st, 2021

Approximately 60 seats are available in 2021

You were registered for May 2021 ? Postpone your registration to December 2021 with no charge.
---
---
REGISTRATION & CANCELLATION POLICY COVID-19
General terms and conditions of sale applicable to individuals
In case of postponement of the current edition of the congress, the participants' reservations, registrations and/or accommodation are automatically postponed to the new dates of the congress.
Participants who wish to cancel their participation at the postponed dates may request a refund of the registration fees, less a 10% administrative fee. Any request for reimbursement following the postponement of the congress will only be accepted if made before the deadline indicated by the organizer.
Accommodation is refundable up to 30 days prior to the conference. Following the postponement, if the participant decides to cancel his/her participation and then register at the lower rate, the re-registration will be done at the rate initially paid.
General terms and conditions applicable to groups
The general terms and conditions of sale applicable to groups are identical to the general terms and conditions of sale applicable to individuals if the congress is either postponed or transformed into a hybrid or 100% virtual one.
The group leader may request the modification of the names of the group members as long as the services remain unchanged, until D-15 before the congress.
---
Acknowledgments 2021
---
Paris Endovascular Aortic Course, from May 14 to 20, 2021 in Le Plessis Robinson, France
is compliant with the MedTech Europe Code of Ethical Business Practice


---
PARIS ENDOVASCULAR AORTIC COURSE, Le Plessis Robinson, France, from May 14 to 20, 2021 has been granted 36 European CME credits (ECMEC®s) by the European Accreditation Council for Continuing Medical Education (EACCME®).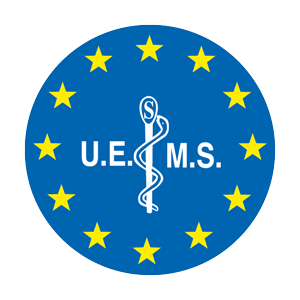 ---
Organization
Stéphanie Meyer: smeyer@divine-id.com
Mob. +33 (0) 646 10 48 26
17, rue Venture - 13001 Marseille, France
Tel. +33 (0) 491 57 19 60
---
GENERAL TERMS AND CONDITIONS OF SALE FOR PARTICIPANTS
SPONSORSHIP TERMS AND CONDITIONS OF SALE
---
Registering to the congress implies that you agree to have your personal information (surname, first name and country only) sent to the industry sponsors. divine [id] agency informs you this was the subject of a declaration to CNIL, the French data protection agency, and this processing is in compliance with the French norm « NS n°48 ». In accordance with article 34 of the French law « Informatique et Liberté » (January 6, 1978), you can access, modify, correct or delete your personal data. In order to do so, please contact divine [id] agency direct at 17, rue Venture - 13001 Marseille – France or at info@divine-id.com.